★★★★★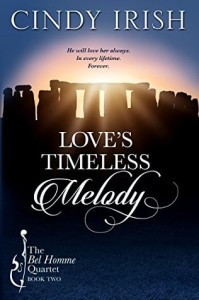 Love's Timeless Melody, Book 2 in The Bel Homme Quartet by Cindy Irish, is a fabulous addition to the series.
British singer Jamie Stratton joined the group called "Bel Homme" for one reason: to make loads of money. A year later and his dream has come true. He's beyond wealthy. Yet, he hasn't been able to tamp down his spiritual side. Raised by his gran at Stonehenge, his childhood has influenced him more than he lets on.
Jessica Evans is an American psychic. However, her abilities don't allow much insight when it comes to her own life. When she's assaulted and lies near death in a coma, she dreams of a stranger who is her destiny. After waking, she's whisked out of America to Royal Tunbridge Wells, England, which happens to be the compound of Bel Homme.
Are Jamie and Jessica destined to be together? Or will money and outside forces rip the lovers apart?
While this novel is the second book in The Bel Homme Quartet series, it reads as a standalone. Fans of the series shouldn't fret, though. There are nuggets about Annie and Gabriel, the couple who beat the odds in the first book. While they play a minor role in Love's Timeless Melody, enough is included to round out how their relationship is progressing.
The true stars in the second book are Jamie and Jessie. Cindy Irish knocked it out of the park when she paired an American medium with a boy who grew up above a shop at Stonehenge, a historical and magical place that most readers will know and yearn to visit if they haven't already. The setting alone keeps the reader engaged in the story.
But the characters truly make this book special. Jamie is the stereotypical businessman who can only see the bottom line. Annie is a plucky American who doesn't care about money. When they collide, it's clear that finances will factor into the equation, but it's not clear from the beginning how and if it'll be good or bad.
It would be easy for readers to form a negative opinion about Jamie. A greedy man who already has more money than most is hard to cheer for. But Jamie is different. As cliché as it sounds, his world is turned upside down when he meets Jessie. Watching his transformation gives the reader hope for other people obsessed with the material world.
One issue may trip up some readers, which is how quickly Jessie moves on from the brutal attack. It's understandable that she wants to forget what happened, but at times it seems odd that she's mentally and physically prepared for intimacy considering everything she's gone through.
Irish successfully utilizes basic ingredients in her romantic suspense novel. Her characters are opposites, there's intrigue, love, hot interactions, and their pasts catch up with them. There's a reason why this formula repeatedly works. On one hand it feels familiar and it's easy for the reader to comfortably slip into the lives of the characters. On the other hand, when handled deftly, which Irish does, it creates a story that sweeps the reader away. Both of these factors keep the reader glued to the pages until the end cheering, crying, and daydreaming. Here's to hoping the next installment in the series is just as magical.
Please note there are scenes that contain violence that may be upsetting for some readers.
Links
Author Site
Amazon
Goodreads