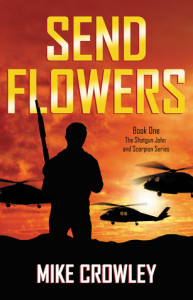 Send Flowers (Shotgun John and Scorpion Book 1) by Mike Crowley is a pulse-pounding thriller about an ordinary man on the run from the CIA for a crime he did not commit. John Griffin finds his workplace, a pharmaceutical lab, in flames, which puts him on the terror watch list and hounded by government officials. The lab has been working on the cure for a disease, and a corporate executive thinks it's more profitable if the lab never discovers the cure. John must find the cure and band together with a group of citizens to fight the highest trenches of power. A politically-driven, thought-provoking novel, Send Flowers lifts the lid off of corporate influence in government in a thriller that's at once complex and fast-paced.
In a political conspiracy novel, the narrative can sometimes turn into a partisan polemic. Such is not the case with Send Flowers, as everyone has their fingers in this game of corruption, and the book covers the story from all angles: congress, the military, law enforcement, corporations, and ordinary people. The idea that sinister forces would try to quash a life-saving drug in the name of profit is all too plausible, giving the novel a real sense of urgency. At its core, Send Flowers is an adventure novel in the vein of the Bourne series or "The Fugitive," and the action lives up to those two franchises.
One thing that might be amiss is the title. It works if you read the book, but to the first-time observer, it doesn't entirely fit the genre, which is a shame because Send Flowers is written to the highest standard. It's a tightly-written book that moves at a brisk pace, even as it uncovers heady and important issues.  Mike Crowley is a thriller writer to watch.