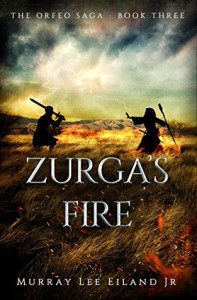 The great hero Orfeo faces one of the most deadly threats of his heroic career.
At the height of Greece's heroic age, the ruthless Getae advance on new territory in their relentless expansion. Terrifying in their savage conquests, heralded by unflinching group assaults and hails of missiles, renowned for wiping out their foes and capturing their defenseless to fuel the war machine with minimal losses on their own side; it seems nothing will stand in their army's wake. Will the great warrior Orfeo and his group be able to buck the trend and face down the Getae menace? The answers lie in Zurga's Fire, Book 3 of The Orfeo Saga by Murray Lee Eiland Jr.
This historical fantasy fiction draws from European and Grecian records to make a classic tale of swords, slings, and champions. The third book of the currently four-book series continues the legacy of Orfeo in his conquests. Supported by a strong and quite diverse cast of men and women, Orfeo is an admirable, fallible hero engaging in more than just the brutality of war. The mature and sensible tone of the Orfeo Saga is present in this book as well, proving this title to be a strong and enrapturing read for lovers of historical fiction and low fantasy.
Links
Amazon
Barnes & Noble
Goodreads