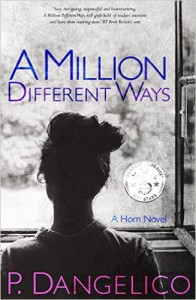 A Million Different Ways by P. Dangelico is a steamy, character-driven romance novel with an international flair. Albanian Immigrant, Vera Sava is desperately traveling through Europe looking for work. Though eminently qualified as a medical student, she takes a job as a housekeeper working for the gruff Sebastian Horne, heir to a banking dynasty, who regards Vera with indifference. Vera comes to learn that Sebastian's gruff demeanor has a reason: he has secrets of his own, and someone wants him dead. A romance blooms and their collective secrets have the potential to upend both their lives, as well as Sebastian's livelihood, only as Vera and Sebastian are drawn closer together.
The great strength in A Million Different Ways is the characters – and not merely the characters of Dangelico's two leads, but all the supporting characters as well. Certainly, the novel follows something of a formula, as Sebastian is a dour alpha-male learning to love again, but his motivations are much deeper than that. Vera is a sympathetic heroine as well, authentically smart and driven, and the novel is brimming with suspense and tension beyond the erotic tension that fills the pages.
Far from thinking this is another cookie-cutter Fifty Shades of Grey, the characters are much more well-rounded, and Vera a much more self-assured and interesting character. Sebastian is a daunting figure, yes, but his backstory is rich and well-expressed. Dangelico is definitely a romance author on the rise. A Million Different Ways is filled with heartbreaking emotion, danger, sensuality, and characters you'll want to hear from again – there are a million different ways you'll love this book!
Links
Author Site
Pinterest
Amazon
Goodreads