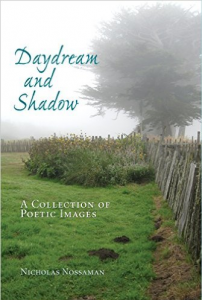 Daydream and Shadow: A Collection of Poetic Images by Nicholas Nossaman is a collection of poems and photographs about subjects large and small – from appreciating a meal to the scourge of war – using subtle, but evocative imagery.
A bit too often, Nossaman relies on prose being reformatted into verse, rather than a poetic cadence of its own, but the images he conveys still remain expressive. The most powerful element of these poems is finding poetry in small moments (drinking a cup of coffee, smoking a cigarette), which makes the book's subheading – Poetic Images – all the more appropriate. Just as a photograph can reveal subtlety and poetry in everyday moments, so too does Nossaman's poetry. There's also subtle humor where you wouldn't expect it, and musical motifs throughout.
As most of the poems in this collection center around people, it would have been perhaps more expressive and more thematically consistent if the photographs were of people as well, as most of the photos are of buildings, corners of rooms, flowers, city streets, and the like. The photos do have their own poetry, but they're displayed somewhat in parallel with the rest of the book.
However, the mood of the book of both the poetry and photographs is cumulative – it's a calming book, one that slows down and appreciates every moment and every image we see each day. This includes dark subjects like war, as the book demands us to look at the horrors of war through a similar lens: appreciating the sacrifices in a way we don't necessarily do when images fly by on the nightly news. Overall, Daydream and Shadow is a solid collection.