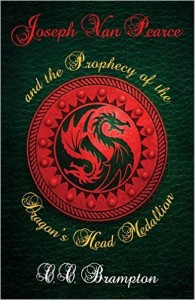 Joseph Van Pearce and the Prophecy of the Dragon's Head Medallion by C.C. Brampton follows Joseph Van Pearce, a moody teenager who's lost his father, tearing his family apart, and he can't focus on much of anything. His luck's about to change when he finds a mysterious photograph, which leads him to discover that he's the guardian of a mysterious medallion. Meanwhile, he's being followed by an evil crow-like creature that wants the powerful Dragon's Head Medallion for itself, and now Joseph has to save his family in more ways than one.
The novel is a great mixture of modern-day elements with classic fantasy. At times the book is a bit too-classic, as the core of the story is very recognizable: a chosen one, a mystical object, and an evil adversary who will stop at nothing to get the object. We've seen this story before in fantasy fiction, and though the book works well as a modern retelling, it could have done more to deviate from standard fantasy tropes. Additionally, when the fantasy elements come to the forefront, the action moves too quickly, without going into enough detail.
Overall, however, Joseph is a lively character – he leaps off the page even when he's being a glum teenager. The strongest component of the novel is Joseph Van Pearce's inner turmoil and his growth as a character, and you're compelled to see how he navigates his treacherous path, and cheer when he succeeds. Young adult readers will latch onto this novel quickly, as Brampton has created a highly-empathetic portrait of teen angst, making for a story that's both exciting and recognizable.