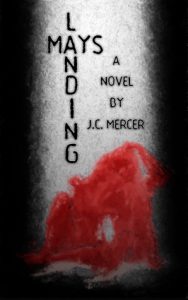 Mays Landing by J.C. Mercer is a dark but hopeful novel about a series of difficult subjects: suicide, mental illness, and life on the streets. The novel begins with Parkhill Mays laying in a Bellevue hospital bed, having attempted suicide. He soon meets T-Bone, a resourceful homeless man who gets by as a "human lab rat," selling body parts and participating in clinical trials, and he teaches Mays to do the same. Together they live under the streets of New York City, as Mays tries to reconcile his new underground life with the world above ground, and the mental illness that plagues him.
First off, please don't let this be a book that you judge by its cover. Though the cover does need some work, the book itself is richly expressed, and deserves to be read. It's an important book, but not self-important. That is, it covers important issues such as homelessness and pharmaceutical industry practices, but the drive of the book is Mays' poignant voice and personal story.
There's a slight incongruity between the spirited eloquence of Mays as a narrator and what he's going through. He describes himself as numb, but his narrative voice is anything but: it's colorful and uniquely alive, which is somewhat at odds with his road to the bottom. However, this is also what makes Mays such an engaging and empathetic narrator. You'll be glued to his voice and his story from the opening paragraph. Highly recommended.
Links
Amazon
Smashwords
Goodreads