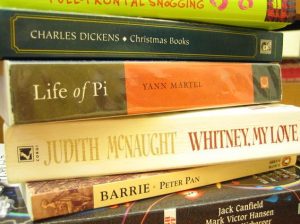 Here at SPR we have decided we will now accept print books for our Review Packages. You can submit here.
There's been a resurgence in print book purchasing recently. Last September The New York Times reported that print was making a comeback due to strong negotiating between publishers and bookstores.
"As publishers renegotiated new terms with Amazon in the past year and demanded the ability to set their own e-book prices, many have started charging more. With little difference in price between a $13 e-book and a paperback, some consumers may be opting for the print version."
Although e-books are still the popular choice in indie markets, especially on Amazon, readers are opting for a human touch. Frank Catalano at Geekwire says, "I'm not going to soft-pedal this: Some people still like the feel of a book, the heft of a book, even the smell of a book."
Here are some of our favorites (click to admire)
| | |
| --- | --- |
| Mapping Manhattan by Becky Cooper | House of Leaves Mark Z. Danielewski |
| The Visual Display of Quantative Information by Edward Tufte | Ernest Hemingway Leatherbound B&N Collectible |
With both indie authors and trad favorites experimenting with beautiful illustrated books, and many print versions using textured, indented, and spot colored (gold and silver) elements that make you want to *touch,* not to mention the fact Amazon is even opening real bookstores with real books on shelves, we've decided at SPR we want your hard copies.
To submit a hard copy, simply buy your review then let us know if you want to send your book to the US, UK, or European office and we'll supply you with the postal address.