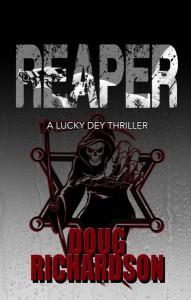 Reaper: A Lucky Dey Thriller by Doug Richardson takes place in a scorching Los Angeles summer, in which South Central murders are on the rise. Sheriff's deputy Lucky Dey has something of a checkered past, skirting the line between good and bad guy, and wants to clean up a part of the city that's been left to disintegrate.
An accomplished screenwriter ("Die Hard 2″ among others), Richardson writes with a cinematic quality – not in the sense that Reaper reads like a screenplay, but in how it establishes setting and character without slowing down the story. Richardson is especially good at writing about Los Angeles, from the poor section to the rich section, and from cop to criminal, so Reaper fits squarely, and successfully, into the storied tradition of L.A. crime fiction.
If there's a weakness it's there are too many characters, so when you get attached to one voice, it leaps to another. However, each character is uniquely interesting and morally complex. Once all the pieces are in place, Richardson effectively weaves the different threads together with plenty of gritty dialog and action.  Recommended for readers of crime fiction looking for a strong new voice.