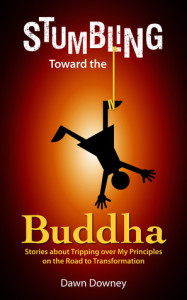 Stumbling Toward the Buddha by Dawn Downey is a collection of interconnected essays about finding "enlightenment" in the modern world. Refreshingly honest, and filled with self-deprecating humor, Downey is not afraid to admit her faults, as well as delve into her painful past, to fully understand herself and the world around her.
Though the book is touted as more of a memoir than self-help book, it could be said to be even more effective than the usual self-help tome because of the Downey's humor and insight. Downey is expert at pointing out human foibles, especially as it relates to spiritual development. She doesn't merely spout a string of positive messages – she looks deeply at herself and her past to truly understand her best way forward. It should help the reader as she helps herself.
At times, the book reads like fiction, as Downey's voice has the poetic eloquence of a fictional character. Far from this giving the book a feeling of unreality, it makes her prose, and her message, all the more endearing. Her stories will make you laugh, cry, sometimes squirm, and feel wiser by book's end. For those on a spiritual path, or really just trying to be the best person you can be, Stumbling Toward the Buddha is a heartwarming, helpful, and most of all, entertaining account of being a spiritual person in this complicated modern world.
Links
Author Site
Amazon
Goodreads