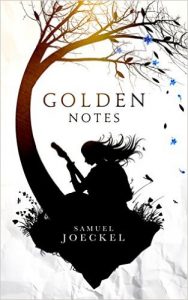 Golden Notes by Samuel Joeckel is a love letter to music. Starting in 1981, it follows the life of young Cali Sky, a musical prodigy on the piano, and then guitar, which she discovers in her bedroom closet, unleashing an odyssey of musical exploration. The child of hippie parents, Cali Sky branches out to the punk movement of the moment – first covering Agent Orange, and moving on from there. Through her broadening horizons on the musical front, she begins to explore deeply her friendship with her musical cohort, Brodie, and further understand her parents' past.
As Joeckel was formerly an academic writer, his writing style has great authority, as if Cali Sky was a real person, and his knowledge and passion for music resonates within these pages.  While sharing nothing in tone with "School of Rock," it does share the movie's reverence for all types of music, and the magic of rock music, whatever the genre. One might call it a more-intellectual take on a similar musical worldview, which is what makes the book entertaining and enriching.
At times the book reads a bit too much like non-fiction, as it covers the history of music, as well as Cali Sky's everyday life. Even dialog seems more like an interview than it does a scene to move the story along, as Cali Sky probes her dad about music, and other questions. However, this is also part of the novel's charm – it's the history of rock music through the eyes of a precocious young girl, whose personal growth is transformed by her love and knowledge of music.
Recommended for young adult readers with a musical yearning, or adults looking to regain that same spirit of youth.

Links
Author Site
Twitter
Amazon