★★★★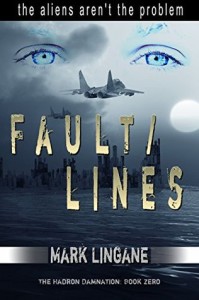 If you think you're having a bad day, take a moment for DCI Tracy Hanson. When a commercial flight crashes right into the middle of London, she has to deal with jumped-up US military men, a whole department of grumpy colleagues, an unusual case of terrorism, and an EMP bringing it all to its knees. To top it all off, there's only a bloody alien invasion. The cracks start to show for DCI Hanson in Fault/Lines by Mark Lingane.
Lingane is a long-time author of the weird and wonderful, unafraid to throw his ideas against the wall and nail the landing with a seasoned penmanship. It's a joy to see what he has up his sleeve next, and his fans will be pleased to see another quirky, yet fast-paced sci-fi thriller with his signature twist of comedy to bring it all together.
To new readers, it's easy to recommend Lingane's highly-readable, easy-going style and his plot that bring the mad-cap down to an easily-digested, human level. DCI Hanson is a lovable, sympathetic character as she tries to battle the daily downpour of bad luck and rudeness with a sharp wit and an unrelenting attitude. The plot is a slow-boil, catchy affair that slowly flips everything on its head in a wonderful way. It's a joy of a read from start to finish, and it's a pretty healthy length to boot.
The London setting is fairly faithful, with a general understanding of the city that can be easily grasped by watching enough episodes of "Ashes to Ashes" or "A Touch of Frost." It can be a touch tiring as the author makes sure the location is conveyed enough in the writing, leading to the (thankfully rare) passages such as the following:
Listen, you moron, you see that great big building on the other side of the river? That's Big Ben, and next to it is a little place called Westminster. And up the road is another little place called Buckingham Palace, home of the queen, the supreme leader of two-point-five billion people making up the Commonwealth of Nations…
In fact, a real chink in the armor for Brits or London regulars is probably the idea that the city would react so violently to events in the book when the city is famously nonchalant about anything from bombings to civil wars. Still, a few rolled eyes about the setting aside, Lingane is back on form as a wry and intelligent writer and deserves a great deal of credit for the ventures he's made in this story.
The book is billed as a prequel, or "Book 0," to the upcoming The Hadron Damnation series and its first installment Blink, and as prequels go, it's an engaging and exciting read. While it succeeds in this respect, the question is whether the book it's leading us into is going to be anything like this one given that it seems fairly detached from the plot presented here. The story is a little disorienting here and there and yet caution is easily cast aside because of the book's overall quality. Fault/Lines is a fun and lightly comedic read that promises more good stuff to come.
Content warning for depictions of suicide and some graphic violence.
Links
Author Site
Twitter
Amazon
Barnes & Noble
Goodreads