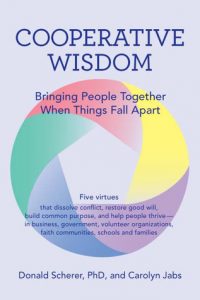 Despite their best efforts, why do good people find themselves in conflict so frequently?
Cooperative Wisdom: Bringing People Together When Things Fall Apart, written by acclaimed philosopher Dr. Donald Scherer and award-winning journalist Carolyn Jabs, introduces a novel approach to ethics that consistently dissolves conflict, restores goodwill, builds common purpose, and helps people thrive. Written as a spirited exchange between the two authors, Jabs brings up tough and pointed questions a smart reader would raise while Scherer lays out the human virtues that promote sustainability in natural and social environments. Their collaboration distills a lifetime of research and analysis into practical principles that crack open stubborn problems and reveal cooperative solutions to persistent conflicts.
Cooperative Wisdom will appeal to anyone frustrated by disruptive change and seemingly intractable disputes. The social virtues it describes open up promising paths where there seem to be nothing but dead ends; it provides clear, practical guide that expands our understanding of what it means to be and do good in a complex, modern world. This book equips readers to respond constructively to change, transcend conflict, and strengthen the communities on which our well-being depends.