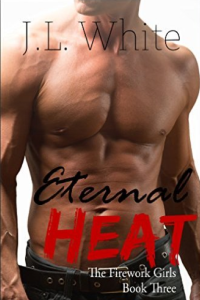 When Ashley met Erik Williams in her senior year of high school, they formed a bond through a love of playing music together, despite their disparate family backgrounds – but Erik's family were not looking to accept Ashley's lowly upbringing anytime soon.
Erik was Ashley's one true love, and now he's turned up years later at Hartman Graduate School. He's her most fierce competitor when it comes to the piano, and may get to play at Lincoln Center in a concert of a lifetime. While they compete side by side for the gig of their dreams, Erik competes for Ashley's heart once more. Who will win the coveted place, and how will Ashley's dreams of love and success come true?
Eternal Heat has a really standout story line: cinematic and full of music and passion as the young couple fight to achieve their goals. The plot drives along to a really satisfying climax, tinged with sadness and emotion. J.L. White once again has produced a really unique romance novel that will win new readers who will want to go back to the others in the series.
A beautifully-written New Adult romance from the author of the Firework Girls series, standalone books for those looking for something a little different in their steamy novels!
Links
Author Site
Facebook
Amazon
Goodreads