★★★★½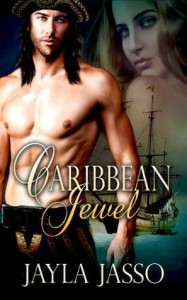 Caribbean Jewel by Jayla Jasso is an evocative and satisfying swashbuckling historical romance.
When Jolie, an Englishwoman, flees her guardian's sugar cane plantation on Crab Island, Puerto Rico, she runs into a Spanish captain in search of a national treasure. Captain Gabriel Marcano can't refuse a beautiful damsel in distress and whisks her back to his ship, which isn't quite the treasure his shipmates expect. Marcano explains to his crew that his sole mission with Jolie is to transport her safely to Europe, but even he doesn't entirely believe his own words. The attraction between Jolie and Marcano is undeniable, but will they be able to overcome their pasts?
Marcano is the epitome of the love interest in an historical fiction novel set in the 1700s, when pirates and rogues ruled the Caribbean. He's sexy, with a sense of humor, a stubborn streak, bulging muscles, skeletons in his closet, and capable of a fight. Jolie is beautiful, but insecure, with a big heart, and an overwhelming need to help the oppressed slaves on her guardian's plantation.
When these two collide, sparks fly. Simply put, the chemistry between Marcano and Jolie works seamlessly, making for delicious reading. Jolie and Marcano were made for each other and the reader can't help but cheer them on, even when they're bickering.
No romance would be complete without an evil force trying to keep the two lovers apart. Lord Hauste fits the bill to a T. Not only is he a cruel overlord on a slave plantation, but he's cruel to everyone he meets, including Jolie. He also has a secret agenda. Every time he makes an appearance, the reader's skin begins to crawl. While wishing for him to get his just desserts, the tension he provides adds wonderful suspense to the novel, forcing the reader to keep turning the pages to find out what happens next. While many would never want to encounter a morally repugnant person in real life, Lord Hauste does make for entertaining and cringe-worthy reading.
The action in the novel adds another exciting dimension to Caribbean Jewel. Traveling the seas in the 1700s was fraught with danger, and Marcano's ship bumps into several unsavory types. The unexpected meeting with these adversaries raises the ante of the drama, while also giving the book an effective dose of realism.
The solid writing rounds out the quality reading experience. Much of the story takes place on a ship and at times it feels like the reader is actually traveling with Jolie and the crew, whisking the reader to a far off time and place. Jasso's descriptions really bring the ship and characters alive.
Jayla Jasso has proven with her first novel that she knows what readers of her genre know and like. The novel is a welcome addition to the historical romance shelf. Readers of this genre tend to gravitate to stories that feel familiar, but fresh. Caribbean Jewel is just that, a breath of fresh air that transports the reader to a time long gone.
Fans of action-packed romance novels about life on the high seas won't be disappointed.
Links
Author Site
Twitter
Amazon
Goodreads