★★★★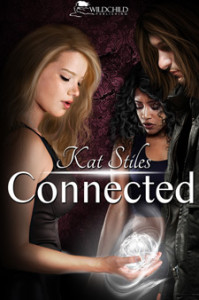 Connected by Kat Stiles is an entertaining paranormal escape for young adult readers.
Emily is a high school student who doesn't feel like she fits in. To make matters worse, Em discovers she has a special power. Fortunately, she isn't alone and her best friend Roz has her own gift. Tommy, the boy Em likes, seems to be different as well. When people in their town start to die, Em, Roz, and Tommy join forces to find a murderer.
The theme in Connected is intriguing and inspirational for younger readers in a world that is becoming increasingly more disconnected. Em and Tommy are portrayed as outcasts right from the start, while Roz's beauty sets her apart as well. Emily, at first, doesn't see her ability as a positive:
I got enough strange looks from people without them knowing about my 'gift.' If they ever found out…I'd get the freak of the year award for sure.
However, the three of them band together and find strength through their relationship, which is a powerful message. High school, no matter if you're a jock, loner, popular, or geek to name a few types, is a difficult time for everyone. And more than likely, most high school students feel alone at some point. Reading about three teens who discover something different and scary about themselves and turning to their friends for support is fantastic, and drives home the point to young readers that no matter what, they aren't completely alone.
Each of the three main characters is unique, however the narrative is told from Em's perspective. She's a difficult character to pin down. Since she's been bullied by classmates, she comes across as meek. Furthermore, Em's sister and mother aren't the most supportive. The reader wants to cheer Em on, however, she struggles finding her voice, which can be frustrating for readers who like to see more personal growth, even in the first book of a series.
The writing is straightforward and intended for a younger audience. There are some pesky typos that are distracting. Certain plotlines could have been tightened or cut to make for a more seamless and captivating read. While the book blurb and cover illustrate the paranormal aspects of the novel, the budding romance between Em and Tommy hijacks the story and dampens the excitement of the trio hunting a serial killer.
That said, the author does an excellent job of dangling enough plot elements for a future book or books in the series, such as the strained relationship between Em and her father. The mystery around the father is alluded to, but never fully explained and it seems that the author plans to explore the relationship more in depth in the next book.
Also, the reader may wonder how many more in the Texas town have special powers. Will Em, Roz, and Tommy have to fight off more evildoers who wield their gift for personal gain? It'll be interesting to see how the author develops this aspect.
Connected is the perfect book for young adults who enjoy paranormal aspects coupled with a sweet romance. Stiles has crafted a novel that is intriguing and opens the door to what promises to be a thrilling series.
Links
Author Site
Facebook
Twitter
Amazon
Goodreads