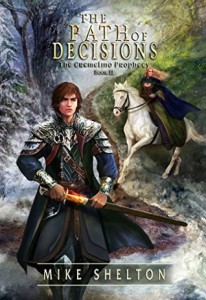 The Path of Decisions follows The Path of Destiny in which Darius finds he has magic powers in a realm that forbids the use of magic. In the second book of the series, Darius is now first commander of the King's Elite Army and is still coming to terms with his magical abilities, and he's torn between following the King or his own path. Christine and Kelln are fighting battles of their own, and Kelln must warn Darius of the threat from an evil wizard. The decisions that they make will affect not only the Kingdom, but their relationships with each other.
This is a fairly perfect continuation of the first book in the series, feeling like a new "part" to Book 1, rather than feeling like a book that goes in an entirely new direction. There are positives and negatives about that – The Path of Decisions doesn't offer many huge surprises in terms of story or character arc, but if you are invested in these characters from the first book, you will fall right into this book and want to pick up Book 3. That's pretty much the definition of a successful series.
Like The Path of Destiny, elements of Shelton's world do veer to the generic, but the story is so well-conveyed that it doesn't entirely matter that some of the motifs are familiar. Shelton's doing a very good  job of using the building blocks of young adult fantasy. Overall, The Cremelino Prophecy is a highly satisfying series that has earned its growing success.
Links
Author Site
Twitter
Amazon
Goodreads