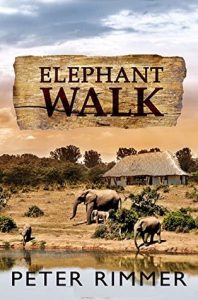 Elephant Walk (The Brigandshaw Chronicles Book 2) by Peter Rimmer is a rich and entertaining work of historical fiction set in England and Africa. Beginning at the onset of World War I (whereas Book 1 was set in the tail end of the nineteenth century), Elephant Walk finds Harry Brigandshaw settled in the Dorset countryside after graduating Oxford when he receives a telegram, which brings him back to Africa. When his brother is killed in the war, Harry enlists and finds success in the service, but also great danger for himself and his family.
Elephant Walk defines the term "epic." Unlike the first book in the series, which was a bit more streamlined, the novel could use some trimming down. Though it encompasses an impressive breadth of locales and ideas, it wouldn't be hurt by paring down in certain areas, while adding more detail in others – especially in dialogue, where Rimmer doesn't do enough to set the scene in terms of place and character.
The novel is highly effective in its descriptions of wildlife and agriculture, as well as a richly-detailed history of the region, which is especially interesting given the book's historical context. It's a fascinating lens through which to view the war, and these scenes are painted vividly. The book is very well suited for people interested in Africa on the whole, but it is plenty illuminating and compelling for those who know little about the continent.
Links
Author Site
Facebook
Twitter
Amazon
Barnes & Noble
Goodreads