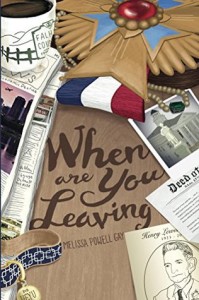 When Are You Leaving by Melissa Powell Gay is a twisted mystery of hometown and heartbreak.
Reeling from missing out on the job of a lifetime, Iris Lee takes an unexpected step in her career – going back home. With a father who can't remember her birthday and a mother struggling to remember her own name, Iris had been well on her way to leaving the past behind her, but she is unexpectedly pulled back into the swirling, nostalgic mess of Mt. Pleasant, Virginia. With the sharp mind of a corporate shark and the tireless drive of a street-wise sleuth, Iris arrives in Mt. Pleasant like a prodigal daughter, but can she become the hero her family needs?
Navigating the waters of old lovers, painful memories, a dying father, and thoughts of what might have been, Melissa Powell Gay has created an exceptionally unique character in Iris Lee. The writing is sharp and impactful, with subtle touches of humor and heartbreak that show off the author's impressive range. The complex emotions of the book are dissected and approached realistically, making the struggles of every character relatable and sincere. This novel is a masterful blend of mystery, self-reflection, personal growth and the complicated nature of familial love, and the story is one that will stick with readers long after the final page.
Links
Author Site
Amazon
Goodreads