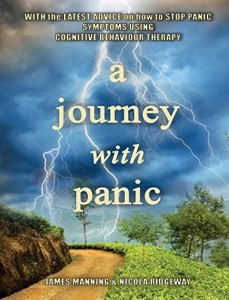 A Journey with Panic: With the Latest Advice on How to Stop Panic Symptoms Using CBT is one of the latest of a series of books by Dr. James Manning and Dr. Nicola Ridgeway that aims to use the principles of CBT – or cognitive-behavioral therapy – in self-help guides to various common problems, both in normal day-to-day experiences and for those who suffer from more severe symptoms.
Both Dr. Manning and Dr. Ridgeway are active and practicing psychologists specializing in CBT, and they lend their expertise on the subject with up-to-date methods and research to back up all that they cover in the book. Dr. Manning in particular gives a personal edge to the guide as he, himself, is a sufferer of panic attacks, and has used the techniques he discusses in his own life.
As such, the book has a very good balance between the personal and the scientifically proven, all while making sure to explain everything in succinct and comprehensive detail – in simple-to-understand language that is anything but simplistic. The book even includes worksheets for readers to utilize in their self-help, making this title a must-read for sufferers of all types of panic disorders.
Links
Amazon
Barnes & Noble
Goodreads