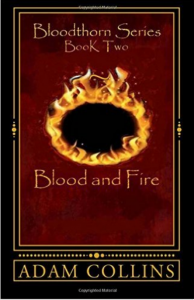 Blood and Fire is the second book in the Bloodthorn Series, the medieval fantasy series by Adam Collins.  The plot introduced in this trilogy is traditional fantasy fare, unmistakable in its genre roots as much for its sprawling world as its colorful characters, which includes dwarves, wizards, princesses, faerie folk, demonic villains, and monsters galore.  It is a high fantasy adventure of battles and heroes, supplemented, of course, with nothing less than the staple quest to save a princess.
In Book Two, we continue on with the attempted rescue of Princess Megan by the King's elite soldiers, as she is moved to the lair of the Darkspawn Lord Alsheer, in the depths of Arakur, as her handmaiden Anabel flees her slaver captors, creating a dilemma for the elite band – they will have to separate to rescue the two damsels, while war brews and choices will have to be made for war or victory in this epic quest.
The books in the series – Stolen, Blood and Fire, and Gatekeeper – have been integrated into a seamless story, to the point that it is difficult to determine where one novel ends and the next begins.  Predictably, the plot rises and falls, but the tension never fades completely as the characters rush from one peril to the next.
Also available as Obsidian, a trilogy of the first three books.
Links
Author Site
Amazon
Goodreads