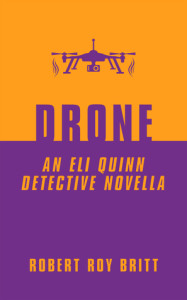 Man will always twist technology to devious intent; that much is obvious. When drone technology is involved in the assassination attempt of an Arizona politician, few are so qualified to deal with the crime as one Eli Quinn.
In his second published adventure of the series, private investigator Eli Quinn is once again on the case, roped in after friend and lawman Jack Beachum passes on suspicions about the investigating sheriff. A man familiar with the technology involved, Quinn must piece together the scattered shards of truth left in the wake of this tragedy with scant few clues and fewer friends to help. Joining him is reporter Samantha Marcos, trusted friend and possible lover, as well as Quinn's dog, Solo, ready to help sniff out suspects in a case deeper and darker than it seems.
Author Robert Roy Britt's writing is engaging and captivating – written both with a mature slant and just a little camp. Britt takes on a well-trod genre and introduces a distinct yet fitting addition to its hall of fame. Both brilliant and humble, hard-nosed and gentle, Eli Quinn's mettle is thoroughly tested in curious and entertaining ways. It's hard to make an original detective, but Britt is more than up to the challenge. He does a wonderful job of telling this twisting tale with excellent pace.