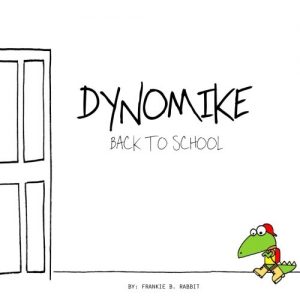 Dynomike: Back To School by Frankie B. Rabbit is a sweet and spirited book about a little green dinosaur's first day of school. He's nervous like kids and can be – especially about what to wear – trying on things over and over again. It's a sweet book with a good message about appearances and judgment.  Dynomike is a cool little dinosaur with a great name who really seems like he could be the spearhead of a long series of books for kids.
The strongest element of the book is that it doesn't stress its lessons too hard – its couched in lively and funny illustrations, so kids won't entirely realize they're getting a lesson about acceptance and kindness. The illustrations are the strongest element of the book, as the rhyming verse comes across as forced in a few places, but then illustrations are of paramount importance in a book for this age, and the illustrations are stellar.
Overall, Dynomike is a great introduction to this children's book character and hopefully Frankie B. Rabbit (if that is his real name) continues on with the series, as this is a book that kids will ask to have read again and again. It's a fun and instructive read especially for the beginning of the school year, or really any time when a child has to get ready for an important event.