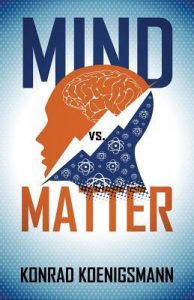 Mind Vs. Matter by Konrad Koenigsmann takes place in the year 2067 – post World War III when the world has now been divided into separate empires, which hasn't exactly fixed the world situation. A shadowy organization called the Tyrannei, led by the despotic Karl von Liebnitz is bent on taking over the world. But he has a foil: Will Hartford and son Pierre have advanced mental powers to take him, but they find that the new apocalypse may just be inevitable.
Mind Vs. Matter is an ambitious novel, focused on technology and the potential for human evolution. It's a thought-provoking read that doesn't unfold like other dystopian, post-apocalyptic novels, but is as much a meditation on human possibility – with a realistic look at human limitations. It's an epic read: philosophical in scope, but with an intriguing sci-fi plot weaving it all together.
One of the most striking things about the book is that the author is 14-years-old (here is some information on the author). Having not learned of this until after reading the book, this is mightily impressive, as it does not seem to be the work of a first-time novelist, let alone someone that young – literally written in the eighth grade. Really, don't let this fool you that the book is "good for a teenager." It's an imaginative and original book, regardless – brimming with innovative ideas. It's not flawless and could be pared down to be plotted more succinctly, but if this is his first book, the sky's the limit for Koenigsmann.