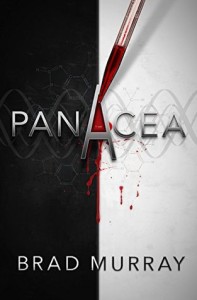 Jimmy Porter is nothing special. At least, he never thought so, and neither did most anyone in his life. His dad dropped out of his life at the age of eight, and at 21 he hasn't got much to write home about outside of a decent vehicle and a few good friends. But Jimmy is about to find out just how special he is, owing to a secret flowing in his veins, which can cure all disease…
Panacea starts with a bang as Jimmy is caught up in strange events, with a fantastically memorable image of a severed arm as an opener. From there it's a rollercoaster ride from past to present as we explore both his early life and the ensuing events. In general it's a strong showing from author Brad Murray, who delivers an engaging plot in a believable American South setting.
There's little criticism to flag up – words are sometimes repeated, as well as phrases ("Suddenly, a sudden…"). The chronology between chapters – which are not entirely linear, time-wise – also becomes muddled at times, as it's not always immediately clear where we are in the first few lines. It's nothing too major, easily overlooked for the positives, with strong, vivid writing, and fantastically gruesome scenes when the story calls for it. A wild and page-turning medical thriller.