★★★★★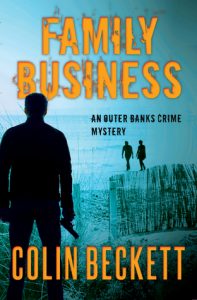 Family Business: An Outer Banks Crime Mystery by Colin Beckett is a grim, thrilling mystery.
From this book's cold-blooded opening, readers know that they're in for a story told by a master of suspense. The patient, calculating and terrifying style that Colin Beckett puts on display in Family Business is unique and chilling, making it nearly impossible to put it down.
When a mysterious serial killer strikes fear in the heart of North Carolina's Outer Banks, it will take two men to ferret him out from his horrific hole and bring him to justice. Sheriff Martin Tate and Paul Treadwell make an exceptional team, and their friendship is believably written, forming a solid bond upon which a good series could be based. Their casual bromance of crime fighting and detective work is enjoyable to follow, and their heroics stay within the bounds of reality, making for a more gritty and realistic tale. They aren't action stars; they're normal men putting their lives on the line for their calling: justice. While this premise may sound trite or commonplace, the serial killer they're chasing down is brutal and meticulously cruel. The main characters stand in such stark contrast to their quarry that the juxtaposition of chapters and perspectives keeps readers on their toes – and on the edge of their seat.
It is easy to create a bad guy or an antagonist, but to create a villain that is genuinely terrifying is something few authors master. Sinister and calculating, violent and unpredictable, merciless and vengeful…the man who's terrifying the Outer Banks is the epitome of cruelty, making it easy to root against him, and celebrate Tate and Treadwell as early heroes of the book.
Beckett also spends time on developing peripheral characters to bolster the action, and has clearly mastered the flow of natural dialogue. At no point does it feel like the conversations are stilted or out of the ordinary. The interactions aren't forced in any way. Beckett chooses to utilize dialogue at key moments that lend depth to the characters, rather than just emptily progressing the plot.
The colloquial language is executed perfectly, and the painting of the scenery is done by someone who clearly knows the lay of the land in the Outer Banks, and can conjure up scenes from memory, imbuing the pages with visceral scenery. The narration even has a touch of humor, and a candid casualness that makes readers feel at home in these places: "Compared to the tacky t-shirt tourist traps that were becoming more and more numerous with each passing year, Duck Dry Goods was like a Neiman-Marcus. Mrs. Cullipher enjoyed referring to her business as a pearl among swine."
On the other hand, the savage nature of the crimes and the lengths to which Tate and Treadwell go to bring down the vindictive madman give space for expressive language and confidence in the writing style. The narration wasn't cold or devoid of life; each small aside was intentional and informative. The author takes times to lead readers forward with tidbit revelations and cliff-hanger chapters, building steam and energy as the stakes continue to raise.
Like all great thrillers, in movies, TV, and good old-fashioned paperbacks, Family Business: An Outer Banks Crime Mystery provides readers with virtuous heroes to root for, a suspect to fear and loathe, and all the action in between to satisfy a morbid fascination with human nature's darker side.
Links
Amazon
Createspace
Goodreads