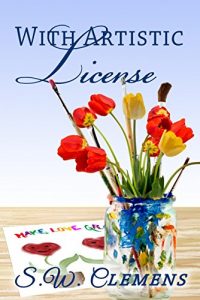 With Artistic License by S.W. Clemens is an entertaining mix of romance and social satire.
Commonly in female-driven romantic fiction, the heroine "has it all." Here the roles are reversed: Curtis Cooke, our protagonist, has a high-powered job, a beautiful wife, and an American Dream homestead – until this all comes crashing down. He's booted out of house and home for being an inattentive husband. Soon Cooke's life takes curious turn when the scribbles of his six-year-old son are taken as serious art, poking some deserved fun at the art world, while Cooke attempts to reinvent himself.
There really aren't enough romances written from the male perspective, and from a male author, so With Artistic License is a welcome addition to the genre – sort of Nicholas Sparks with a better sense of humor. In "has it all" narratives, the protagonist is often described as well-meaning but maybe a bit bumbling. There's good reason, however, for Cooke to get kicked out, as his behavior dictates it, which gives the book a firm sense of reality. This is important given the fairly far-out reaction to his son's art and the ensuing events. It also makes Cooke's path to rebuilding his life more satisfying.
Clemens is an assured and intricate writer. This is definitely on the literary edge of romantic comedy, yet retaining its lightness of touch and spirit. It's a feel-good story overall that doesn't hit the reader over the head with either the romance or the comedy, making for an appealing and engaging read.
Links
Author Site
Facebook
Amazon
Goodreads