★★★★½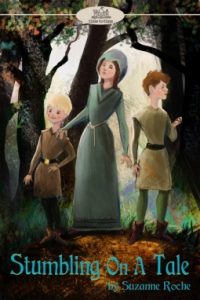 It all started with a book. Now three siblings are stuck together, traveling through time, once again…whether they like it or not.
Join Peri, Henry, and Max – two siblings and a half, in reverse order – as they make their way from the high spirits and high seas of an immigration ship en route to New York, and on to new adventures in the Middle Ages. Lost together in a forest after another of Peri's bright ideas, the three find unlikely companions in a group of colorful travelers: a man and his pig, a maid searching for a dog, a sorcerer, and more. Add in two rowdy lads and their older, nerdier step-sister, and amusing chaos ensues.
Stumbling on a Tale is very, very funny – one of the funniest books on the Middle Ages that comes to mind. Roche has an excellent sense of humor and a keen wit when it comes to history and spinning it into something that is both informative and immensely creative. With very memorable characters and a writing style that leaps out at you, this is an author to watch.
At times, the writing is a little unnatural – the meaning is fairly clear but it doesn't read as seamlessly as it could. The quirkiness of the book's writing is very charming, but unfiltered, and perhaps could have used the input of a fresh reader to make sure every line was as clear as possible. The use of stock photography is also a little jarring, especially considering such a beautiful cover on every book in the series. One hopes that perhaps this could be replaced with some more tailored imagery in the future to really elevate the book's design from good to great.
Otherwise, Stumbling on a Tale is honestly fantastic. There's also a fun section at the end full of extra facts and activities, including how to make medieval gingerbread and how to play Nine Man's Morris. As much as this wasn't necessary to make the book feel complete, it's a wonderful collection of research that really is uniquely interesting, unlike so many children's history books that can be staid and stale. And that's really the core of what makes the book so good – it takes the facts, the history, the real events, and turns then all into something really fun and interesting.
The series has much in common with the incredibly popular Horrible Histories brand with its unabashed revelry in what makes each time and setting so interesting, from the wide-scale to the fine details, all of which are so easily mishandled in the classroom. Along with the similar kind of off-white humor that always captures the attention of a younger reader (albeit much less blood-and-guts than Horrible Histories takes pride in) the series looks to have a huge amount of personality and charm.
Hugely funny and wonderfully developed, Stumbling on a Tale is the kind of book on the Middle Ages you wish you'd had growing up.
Links
Author Site
Amazon
Goodreads