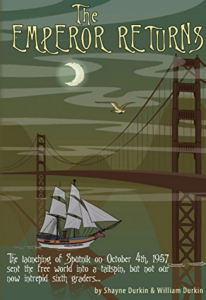 In 2014, a ten-year-old girl asked her father if he could assist her in writing a book. That book was Emperor Norton's Treasure Hunt, a "real life adventure" based in 1950s San Francisco – a local paper devises a treasure hunt with clues in their publication in order to boost sales and win the war for newspaper supremacy in the city.
The Emperor Returns is the sequel to the Durkin duo's debut hit, starting off at the launch of Sputnik 1, two years after the San Francisco Chronicle's infamous endeavor. The team are ripe for a new venture, and when the old Emperor's name is brought up, there's sure to be a stir…
The Emperor Returns isn't just "good for something written by a young writer," it's just plain good. The Durkins manage to pull off a very adult-minded book with a huge amount of creativity between them, and the story they have produced is incredibly entertaining.
The book boasts a very memorable cast and a plot that takes place all around the real-life San Francisco city, replete with fascinating detail. It's a unique and captivating novel, and the Durkins have created a fantastic read for adults and younger readers alike.
Links
Amazon
Createspace