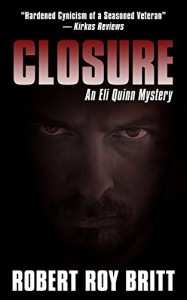 Murder rocks the sleepy town of Pleasant, Arizona, and ex-reporter Eli Quinn is on the case. Fresh off his uncertain vacation from his job with the Arizona Republic to track down his wife's killer, he returns with the perp behind bars, yet he can't bring himself to slip back into his old life behind a desk. With the encouragement of his close companions, he moves into the seedy world of private investigation, and a shocking murder hits home at the right time for Eli to test his mettle.
The first book of the Eli Quinn series is a gritty, hard-boiled detective thriller, with a twist of self-awareness that keeps the read fresh and engaging. Eli's past is no laughing matter, but he's on his way to learning to live once again, if only he can solve one more case.
With back-up from his companions, including a sharp-minded cop, and Eli's soon-to-be best friend Solo, a former police dog, the story keeps you on your toes through a murder case that proves to be less than typical. Eli Quinn begins his saga as a private investigator with a bang, and it only gets better from here – stay tuned for more, folks! Eli Quinn is truly a classic protagonist in the making.
Links
Author Site
Twitter
Amazon
Goodreads