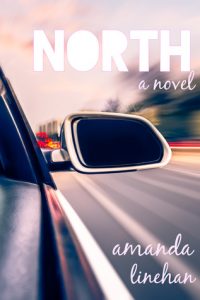 Jayne is on the run – from the law, from her past, from herself. Unlikely events conspire to face Jayne with everything she's tried to put behind her, for better or for worse. Making unlikely friends with a former victim of her crimes, Jayne only has one compass to lead her forward: her heart. She drives north, perhaps to face the family to which she once belonged, or to another life entirely…
North is a stirring read that starts much like an updated retelling of Hitchcock's "Psycho," if taken in a completely different direction – if the sad story of a young woman burned by love and scorned by fate was left to run past a certain infamous motel.
Jayne is a compelling protagonist with a rap sheet as long as her leg, but with so much doubt and self-conflict to make her shady actions understandable and sympathetic. It's hard to know exactly what to root for, be it her family or something else – only that Jayne truly deserves better. North is a story of violence, crime, neglect, romance, compassion, and family from the perspective of a woman in hurt, who must learn to trust once again. It's a heavy but affecting read, made stronger by the novel's multi-layered lead character.