★★★★★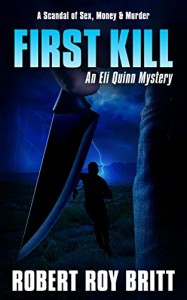 Most private eye mysteries have a tendency to fall into common tropes and expected stylization, and there is rarely a reboot within the genre. Robert Roy Britt, the author of First Kill, works against that common grain and has created a believable and likable private eye in Eli Quinn that doesn't seem like a cliché stepping out of a film noir classic. With two books about Quinn firmly under his belt, the author has settled into a comfortable writing style, seemingly effortless, which drives this book's unpredictable plot forward at a perfect pace.
When a woman named Madison Mack hires Quinn to find her missing father, it doesn't take long for the private eye to dig his teeth into the tangled mystery – and possibly bite off more than he can chew. Still recovering from his last two cases (and last two books), Quinn resembles a battered hero stepping back into the ring yet again, a glutton for punishment and justice. He is charmingly stubborn and rough around the edges, but also incredibly intelligent, perceptive and capable of handling himself in any situation.
Readers are shown a softer, more romantic side to the hero early on, which humanizes him as a protagonist and makes it easy to root for him from the very first page. The fact that he isn't a lone wolf also endears readers to Quinn, who relies on his trusty K-9 sidekick, Solo, and his old friend Jack Beacham, for life-saving backup and valuable advice, respectively.
As more bodies begin floating to the surface of this methodical, yet fast-paced thriller, Quinn's relentless snooping makes him a target, but the author is careful not to give away too much about the bad guy, letting readers make most discoveries at the same pace as the protagonist. This plodding sense of progress in the novel creates a slow-burning tension, and while readers can make guesses as to how things will play out, Britt plays his authorial cards close to his chest.
The dialogue stands out in this novel as particularly believable, which is often where mysteries and private eye novels stumble. Every scene is written meticulously, and even the explosive moments of danger flow organically from the pen. Britt never falls back on hackneyed language or generic bravado, making Eli Quinn a force to be reckoned with on the page: "Maybe you know a little. Maybe you know a lot. But I know you know something. And so far, I don't like your attitude, and neither does Solo. Let's change that before something bad happens." This sort of terse, tough guy language is consistent with his character, and can be backed up with fists when necessary.
The writing is clean and generally error-free, and even the occasional slip up or awkward phrase does little to ruin the mood of the prose. From knife fights and deadly ballplayers to biker bars and hired killers, Quinn navigates this novel's deadly landscape with a chip on his shoulder and a loyal pup by his side. While they aren't the most traditional crime-fighting team, First Kill solidifies Quinn as a deeply developed hero with great potential for future installments from Robert Roy Britt.

Links
Author Site
Twitter
Amazon
Goodreads