★★★★½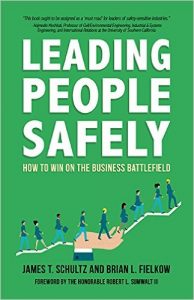 If you are interested in learning to better your leadership abilities, utilizing up-to-date safety methods in your working life, and looking to get an edge in your business, then Leading People Safely: How to Win on the Business Battlefield covers all the bases, and then some. James T. Schultz and Brian L. Fielkow introduce us to the world of safe and effective leadership in business through "safety culture" in their debut guide.
The two authors have close ties as co-managers of a waste management service and they're long-time friends besides, however that is by no means their only claims to fame. "Jim" Schultz is a former Air Force pilot whose absolute need for safety inspired his "don't forget who packs your parachute" approach, practicing mindfulness at all times, which has earned him publication in many major outlets. Fielkow, among many other achievements, can boast CEO status of a multi-million dollar company and the current expertise from the position he holds. The list goes on; the point being that they are certainly trustworthy sources that practice what they preach, finding huge success in their own implementation of these ideas in their own businesses.
The book centers, chiefly, on their philosophy of "safety culture," which is all about creating ideal situations through examination of current conditions. The idea comes from a place of genuine respect and understanding of those you are responsible for, and extends to all aspects of a leadership position, no matter whether it be a high-end or something smaller or even more informal. As the authors themselves put it:
By investing in your safety culture, you are investing in your employees, and an engaged employee base is the best way to provide an unparalleled customer experience.
This admirable straight-forwardness is a prevailing quality to note about the book and summarizes the approach taken by the authors: Do away with the buzzwords. This is no airy pop-psych piece or attempted cultural revolution. Leading People Safely is simply a great deal of sound advice born of experience, delivered in an incredibly easy-to-follow, succinct manner. Best of all, it delivers exactly what it advertises: a way to maximize performance, impress co-workers and superiors, and all-around improve your efficacy as a business leader by embracing safety culture.
As will be quickly apparent to any reader, the book has been well-regarded by many genuinely successful figures in business, documented in the glowing testimonials that fill up the first few pages. It's easy to see why once you turn a few more pages and even just skim the clear-cut, excellently written, superbly organized contents. Leading People Safely is an informed, comprehensive, and savvy look at safety in business for anyone in charge at any level. It is frankly so all-encapsulating it earns the right to be considered "definitive" on the topic, even at its sub-200 page count. For anyone looking to maximize performance and minimize risk for their workplace, Leading People Safely is an excellent guide.
Links
Amazon
Barnes & Noble
Goodreads