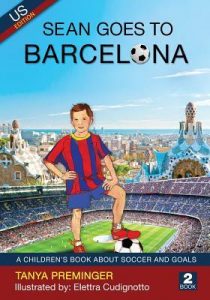 Sean Goes To Barcelona by Tanya Preminger is a book aimed at middle-grade readers about a mom and son's visit to Barcelona to see the Barca soccer team play, explore the city, and maybe meet the boy's hero, Messi. Expertly illustrated by Elettra Cudignotto, it's a spirited adventure through a foreign city, and an ode to the world's most popular sport.
As this is the second book in the series (following Sean Wants to be Messi), it would have helped if the author had established Sean's love of Messi for those readers who are picking this book up as a first read, but she launches straight into the story. There are also a few confusing details in language; for example, in the U.S. edition of book, the sport is referred to soccer rather than football, even by Europeans, which would not be the case in Spain.
Parents may not appreciate the mixed message throughout the book: Sean is full of complaints and demands throughout, yet still gets everything he wants despite his disrespect for his mother's work and attention. In a way, this book is more about parenthood than it is about childhood – the struggle of taking a child on an extensive vacation – yet written for younger readers.
However, for kids who love soccer – and especially Barca and Messi – this will be a great fantasy read, transporting kids to an exotic and exciting locale.
Links
Author Site
Facebook
Amazon
Goodreads