★★★★½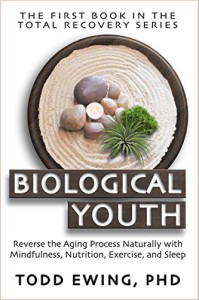 In Biological Youth, the first book of the Total Recovery series, author Todd Ewing, Ph.D. introduces readers to his unique approach for improving overall health. While many health books focus on the dual nature of health – body and mind, diet and exercise, etc. – this book takes those classifications one step further. It combines a wide variety of approaches to fitness, such as the Paleo Diet and other fads/beliefs. The book doesn't recommend a specific method of becoming healthy, but rather outlines a comprehensive overview of what people should consider with every decision they make regarding fitness.
The core point of the book is introduced early, with a brief explanation of the five major types of fitness – Metabolic, Circadian, Microbial, Immune and Mental. Ewing reminds readers that if any one of these five areas is compromised, it can result in biological stress and a more rapid aging process. Rather than taking a focused look at how your diet affects your health, or how exercise can improve your metabolism, Ewing examines how the sum total of your behaviors affects the entirety of your biochemical processes.
Many people are quick to overlook the important of their circadian rhythms, their choice of leisure activities, or the attention that they give to modern forms of media; at the very least, people rarely look for connections between these seemingly disparate elements of life. This book goes against that grain, and describes a network of bodily interconnections, comprising a kind of "Theory of Everything."
Even relatively informed readers on the subject of fitness and health will find new and intriguing information on how our different organ systems and behaviors affect one another, and how every choice we make can directly impact our longevity. Instead of suggesting vague theories and making suppositions, the book is meticulously packed with citations, without becoming overly clunky or stuffy. There is a good dose of humor and light-heartedness, which makes the book feel less like a lecture, and more like a casual conversation you might find yourself in on a university quad.
The author's credibility is established almost immediately, and his confident, self-assured style of writing does little to undermine that. While some of the proposed ideas, such as zombie viruses and the transfer of deleterious mental attitudes between one person and another, may seem far-fetched or unprovable, the author's rational explanations and step-by-step breakdowns will challenge even the most staunch doubters.
With 20 years of professional experience and an obvious desire to improve the mindset and wellness of people across the world, Ewing's advice is easy to follow and accept. The lessons are intuitively ordered, and the same attention to detail is paid to the grammar and syntax as it is to the information itself. As a whole, the book is an enlightening pleasure to read, and while it leaves readers with a great deal to think about in terms of their own health and fitness, it doesn't leave too many unanswered questions.  Biological Youth is a thorough and impressive vision of a more comprehensive approach to wellness, and Dr. Todd Ewing is uniquely qualified to share it with readers.
Links
Twitter
Amazon
Goodreads