★★★★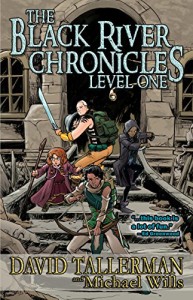 Finding a unique angle in a new fantasy series can be difficult, and creativity remains the most important element in the genre. In The Black River Chronicles: Level One (Black River Academy Book 1) by David Tallerman and Michael Wills, readers are fortunate to find a brand new world filled with recognizable characters – or at least classes – and a heartfelt tale of growth and friendship. It's a keen mixture of the familiar and the innovative.
For anyone who has ever played a role-playing game, the concepts of leveling up and choosing a class are very familiar, but these technical aspects of "character building" are often skipped in literature. Heroes often arise from unexpected backgrounds, and then seem to hone their skills on their respective journey or quest. In this amusing and highly entertaining book, the young main characters, aspiring to be great heroes in the future, are forced to form a party – essentially a team for adventuring. The idea of "magic school" was popularized by J.K. Rowling and Lev Grossman, among others, and Tallerman and Wills deliver another excellent perspective of what this sort of reality might look like.
While many fantasy novels focus on the sword and sorcery elements, this one seems much more interested in the characters themselves, as they struggle through youth, friendship, alienation and incredible powers that may be too much for some of them to handle. From the anxieties of the party's wizard to the rough exterior of the rogue and the apparent stupidity of the warrior, the authors embrace classic character tropes, but they go much deeper than that. These young heroes, led by the charming and brave Durren Flintrand, must work together and become an actual team before they can hope to progress to their "next level."
At moments, this book feels like reading a dictation of a great Dungeons and Dragons campaign, and it is obvious that the authors have a long and loving relationship with RPGs of that nature. It makes for a unique writing style, declarative and confident, but interspersed with good dialogue and clever twists. The descriptions and settings could have been a bit more fleshed out, and the pacing is not always consistent, but it generally moves at a good clip. For younger readers just testing the waters of the genre, this series could be a great place to start.
The technical aspects of the writing are good overall, but the sentence structure tends to be short and clipped, making the reading experience choppy. There are very few grammatical errors, and the plot's resolution doesn't disappoint, showing a good level of planning – something that a veteran Dungeon Master wouldn't find too difficult. With unicorns, dwarves, dangerous rebellions and dozens of other fantastical beasts and moments, this book is a thrilling ride that leaves readers with a number of important lessons. Friendship and loyalty are the foundation of the party's success, and while it may take some time for them to trust in one another, looking beyond the surface-level is rewarding for everyone. This mature realization and process that the characters go through make them well-developed and believable.
Many people read fantasy to escape, and while The Black River Chronicles certainly has escapist elements, it is also a touching story of the magical bonds that link all of us – human and otherwise. Readers should be excited to see where this series goes, and what those "higher levels" hold for this unique band of adventurers.
Links
Author Site
Twitter
Amazon
Goodreads