★★★★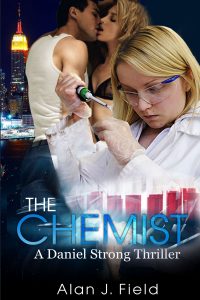 The high-stakes world of global politics and espionage is packed with stories just waiting to be told, and Alan Field spins an incredible tale of this covert underbelly in The Chemist. For fans of the thriller genre, this book delivers in every way imaginable, from smart dialogue and protagonists with dark pasts to dangerous vixens and an endless array of secrets.
From the very first chapter, readers feel the tension building, and with every successive page, the plot becomes more and more complex. Field is a patient architect, however, and understands the value of making readers wait for every big payoff. Danny, the ex-Delta Force hunk who gets dragged back into the CIA's dirty business, is a charismatic and mysterious antihero – a drug addict with a short temper and a deadly skill set. Initially, it doesn't seem like he would be able to find his way out of a heroin den, let alone hunt down a secret auction where a horrific neurotoxin was available for the highest underworld bidder. However, his loyalty and past service put him in the CIA's crosshairs, and he doesn't mess around.
His weakness for drugs is only matched by his weakness for women, and the creator of this up-for-grabs weapon, Kate, is an alluring chemist with plenty of her own vices. When Danny and Kate finally become entangled in each other's lives, it isn't clear how the CIA operative will separate his own dark past from the potentially devastating future. Overcoming personal demons and laying his own life on the line, Danny must go to Herculean lengths to keep her – and the chemical equation in her head – safe.
The villain of the story, Sabir, is about as sinister as a "bad guy" can get, but the whole story takes on an added level of intrigue due to its parallels to the real fears of today's world. An author that can create savagely good fiction, which readers can easily mistake for fact, is one of the true hallmarks of a great suspense writer.
As the cast of characters grows and begins to overlap, the seemingly disparate plot comes together, and there were few – if any – loose ends that Field doesn't tie up. Purposeful writing isn't always easy, but it seems as though every scene and interaction has a firm point, making it fun to read and scheme and sleuth right along with Danny. The tension builds to a breaking point sooner than one might expect, and the close of the book can only be described as a jaw-dropping roller coaster.
The technical aspects of the writing are solid, with only a few misspelled words and grammatical errors. Generally, the dialogue was believable and fluid, although some clichés and idioms sneak in that do feel a bit hackneyed, even within this genre. The local dialect changes are also a bit rough at times, and while they help to solidify various settings, they can occasionally distract from the action and intention of the scene.
All of those critiques aside, if you're looking for a sexy, whip-smart thriller with frighteningly real reflections of the modern world, The Chemist will not disappoint. Alan Field is a unique voice in the genre, and should keep pushing the envelope in future novels – it seems that his writing excels when his characters are on the edge.
Links
Author Site
Amazon
Goodreads