★★★★★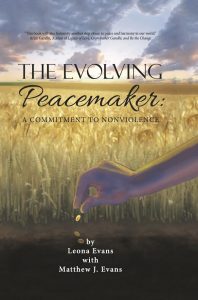 It is rare for a book to seem "perfect" for an era or moment in history, and while the concept of nonviolence is far from modern, The Evolving Peacemaker is a book desperately needed by the present generation. Author Leona Evans takes a wise and comprehensive look at every angle of nonviolence – from protests and politics to peace and personal reflection. For anyone who is unfamiliar with the teachings of Mahatma Gandhi, which was furthered by historical figures like Martin Luther King and others, this book is essential reading.
It is an intensely personal book, and the author reflects on numerous experiences in her own life, where she personally experienced violence, and explains how she was emotionally scarred by those moments. That forms the foundation for her interest in the subject, and makes her thoughts and conclusions all the more powerful. The book is also filled with thoughtful musings on philosophy and religion, and it unpacks the common entanglements of nonviolence and spirituality, suggesting a compromise between the two.
The titular term, "the evolving peacemaker," is explained over the course of the book, with the aim of encouraging readers to share and live the ideas within the book's pages. The concepts in the book range from deeply theistic to impartially academic, and some of the discussions of social and emotional intelligence are truly profound. Whether or not this book is life-changing for readers, the scope and purpose of the book is admirable and it is obvious that Evans pours her heart out in every chapter.
She also discusses her relationship and interactions with Arun Gandhi, Mahatma's grandson, who has continued the work and teachings of his grandfather. Her son, Matthew, figures prominently in the book, and he is as inspiring as Leona, in many ways. As a high school student, he made a film about nonviolence, interviewing many religious and community leaders and learning more about how different cultural groups approach the concept. This sort of multi-faceted approach to nonviolence is present throughout the book; Evans clearly lives, breathes and thinks about this idea, and regularly inspires those around her to live a life dedicated to peace. There is a clear thesis that Evans is trying to buttress, and she does it exceptionally well.
In terms of the writing itself, there are very few grammatical errors, the sentence structures are diverse, and the pace of the book is excellent. Some elements of the book seem repetitive, and in the author's attempt to drive her point home, it can occasionally become heavy-handed and too insistent. However, this is more the product of her passion than any fault in the writing or her capacity as an author.
The scope of this book may seem narrow at first glance, but in fact, it is a deeply probing book of human nature, explaining why we act the way we do, and provides viable avenues for healthy change. Regardless of your personal philosophy, religious affiliation, or history of nonviolent thought, The Evolving Peacemaker will open your eyes in many ways. It provides perspective at a crucial time, when violence is often seen as the only option in many parts of the world. Inspirational, thought-provoking and written with true passion, this book is a valuable addition to anyone's library.
Links
Author Site
Amazon