★★★★½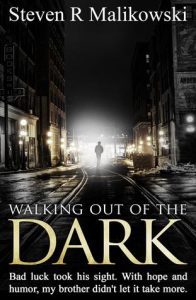 Brotherly love is a powerful motivation for many people, but for author Steven Malikowski, his brother's inspiring life and outlook drove him to write an unforgettable memoir, Walking Out of the Dark. After Mike lost his sight, Steven saw firsthand the challenges of being disabled, even partially, in a world that is so often driven by speed, efficiency, and the quest for perfection. This book is a touching and personal account of survival and success as a blind individual, overcoming obstacles with grace and patience that most people could never muster.
There are equal parts wisdom, storytelling, humor and tragedy in these pages, and even non-disabled readers will be uplifted by the story. Everyone experiences trauma and heartbreak of some sort in their life, and Mike's attitude towards his challenge is something that everyone should adopt. From the awkwardness of flirting with a new crush and stumbling his way down fuzzy neon streets to standing on a mountain with skiers whipping past him or everyday cooking disasters in the kitchen, the book touches on a wide array of life's little moments that are so easily taken for granted.
Mike's friends make the book even more enjoyable, and the solid supporting cast is truly what carries the story through to the end. It is never kind to laugh at the misfortune of others, but no one wants to be pitied and coddled for the rest of their life either; that is perhaps the most important lesson readers can glean from this amusing and brutally honest account.
The writing style is casual, almost to a fault at times, but as the author explains in his biography, he wants his writing to sound as though it was overheard at a card game. While this approach does make the book easy to read, certain scenes and moments that could be more impactful or emotionally profound fall short, for lack of fully polished language.
The editing of the book is excellent, and there are very few grammatical errors, making it a pleasant reading experience. The dialogue between characters, particularly Mike and George, is believable and rich, peppered constantly with humor and sincerity. The main character of the story is the author's own brother, but the intimacy of this story is surprising at times. Either Mike spent a lot of time telling the author about the details of his daily life, or Steven Malikowski has an incredible level of empathy and imagination. At times, the book reads like a diary, or an intensely personal series of reflections, making its impact all the stronger.
The subject of disabled individuals makes some people uncomfortable, but it is books like this one that help laymen understand not only the trials and tribulations of the disabled, but also their potential for triumphs and joy.  The public at large often look at blind, deaf, dumb or physically handicapped people with pity, dehumanizing them to the helplessness of children. Malikowski gently but firmly eliminates those foolish stereotypes, and shares a story of strength, love and perseverance in the face of life's unexpected cruelty. By the end of this story, Mike manages to accomplish things that he had never thought possible; while his achievements aren't one-of-a-kind, they are expressed with candor and wisdom.
Whether or not you or someone you know suffers with a disability, Walking Out of the Dark will lift your spirits, make you laugh, and leave you with a new perspective on the indomitable human spirit by the final page.
Links
Author Site
Amazon
Goodreads