★★★★★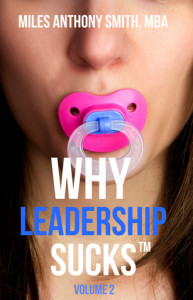 While there are countless books on the subject of smart leadership, and how to improve your abilities as the head of a company, team, community or family, many of these texts seem incomplete, lacking in the more compassionate side of being a role model for others. Perhaps author Miles Anthony Smith recognized this gap, which left room for Why Leadership Sucks™ Vol. 2: The Pain, Pitfalls and Challenges of Servant Leadership Fundamentals.
Following on his successful first installation of this series, Smith delves deeper into the subject of leadership, focusing less on the classic elements of delegation, selflessness, humility, creativity, innovation and specific management techniques. Instead, this book highlights the emotional weight that leaders face when they decide what type of legacy they want to leave. Servant leadership has become a buzzword in corporate environments in recent years, but the exact definition – let alone its applications – remains fuzzy to many people.
Furthermore, despite the plethora of leadership advice and gurus out there, that surplus doesn't seem to be tackling the measurable lack of solid leaders in many important areas – politics, business and other non-profit industries. To achieve quantifiable change and improvement in your business, community or country, fundamental leadership principles must be applied with an empathetic and rational mind. You may look excellent on the outside, and tick all the boxes as a leader, but if you haven't squared your moral façade with your internal truths, then you're doomed for failure. This is the general gist of what Smith has attempted to outline in this illuminating book.
Like many other texts in the self-improvement genre, it is broken down into a few major sections – four in this case, just as in Smith's first leadership series installment. This may seem formulaic or hackneyed, but it is the unique twists on standard content that make Smith's approach far more appealing. If you have the basic knowledge of what it takes to be a leader, but are struggling to find space for the application of those principles in your life, it may be a sign that something else is distracting you or preventing you from being your best.
Why Leadership Sucks™ is an apt name for this series, as it doesn't shy away from the incredibly heavy burden that leadership can often represent. It does, however, present some viable options and techniques to cleanse yourself of negative energy and distractions, allowing you to become the leader you've always wanted to be.
If any self-improvement book on leadership could be called "holistic," this would be it, as it touches on personal improvement, core morals, spirituality, self-confidence, and other issues that are often overlooked in this sub-genre. Smith writes passionately, but also with the confidence of experience. There are few errors, and the tone is relatable, but also authoritative, in a way that readers of this type of book would both expect and benefit from.
Miles Anthony Smith's struggles with finding his own leadership path are evident in the text, making his story and wisdom all the more powerful. If you feel that you have the general framework of leadership under control, then Why Leadership Sucks™ Vol. 2 may provide the more delicate mortar that keeps you strong, stable, and successful, both in business and in life.

Links
Author Site
Twitter
Amazon
Noisetrade
Goodreads