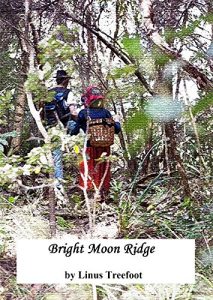 Bright Moon Ridge by Linus Treefoot is a literary adventure about Johnny Bartooth who's dropped a bombshell at 19-years-old – he learns, via a journal brought to him by an aging hippy, about the origin of his parents, who he's never known. His father once traveled through China and met the beautiful Mei, a doctor tending to his wounds after a vicious attack. They start a love affair, but Mei is trapped in China, so Johnny's father must go back to save her. Years later, Johnny follows in his father's footsteps to China to finally discover his parents' fate.
It's a riveting read overall, but an obvious problem that has to be mentioned at the outset is the quality of the cover, which doesn't reflect the read inside, and could really use an update. There are also stray editorial problems – nothing that affects the flow of the read, but there are grammatical issues (underlining instead of italics, inconsistent punctuation inside or outside quotes, etc.).
The quality of the prose makes up for those flaws. The book veers towards literary fiction, though it's not purple by any means – Johnny is 19, after all, and sounds like a young man. There are small eloquent details in every sentence, which color each scene and make the book come alive. What the book has most is authenticity – Treefoot's wife is Chinese, as he mentions in the acknowledgments, so there are fascinating details throughout about Chinese culture and history, and one is left wondering how much of the book is true to life. Whether the book is true or not, Bright Moon Ridge is a breezy, colorful read with an absorbing mystery at its core, as Johnny tries to uncover the past.