★★★★★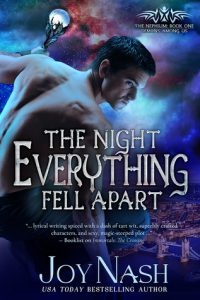 Creating a compelling fantasy story with an original, solid plot line is no easy feat, and to combine that with rich, well-developed characters is even more rare. In The Night Everything Fell Apart, veteran author Joy Nash spins a fast-paced tale of partnership, loyalty, betrayal, lust, good and evil that will have readers hungry for the next installment. The premise is ambitious, the lead characters are impossible to forget, and the writing is a treasure trove of description and passion that defines a gifted writer.
In the eternal battle between angels and demons, there are many subplots and untold stories, such as that of the Nephilim, the offspring of fallen angels and human women. Arthur, on the other hand, is a direct descendant of Merlin, and has the potential to be the greatest wizard in generations. However, he needs to tap into his mystical roots if he wishes to unseat the ruler of the Druid clan and stop her manipulation of other Nephilim.
If the plot sounds confusing, that's because it is; however, Nash artfully weaves this story and thoroughly backs up her characters and side plots with great exposition. As an author, she isn't afraid to take the time to draw a reader in a bit further. She wants us to believe in this world and her characters.
As expected in this sort of fiery, passionate tome, romance plays a central key, and the connection between Arthur and Cybele is powerful indeed. Nash doesn't make Cybele a forgettable heroine, however, but rather an equal partner with Arthur, contributing just as much heroism and personality to the story as her male counterpart. This makes the reading all the more enjoyable, as the erotic moments of the book veer away from the classic damsel-in-distress dynamic. Despite the incredible pressures on Arthur, he proves himself to be a good man, and a noble warrior for the ultimate cause.
The epic nature of the writing, discussing the rise of demons and the fall of angels, requires a particularly mature and confident pen, which Nash provides in spades. As her bibliography proves, she is very comfortable and accomplished in the fantasy genre, and her style stands out on the shelf. The action scenes and world-building are reminiscent of R.A. Salvatore and Margaret Atwood: quick and to the point, but with beautifully chosen language and a mastery of simple prose. Her style is consistent and fluid, the pacing is excellent, and there are very few grammatical errors.
Spinning a love story within a holy battle between the forces of good and evil, Joy Nash delivers a knockout start to the Nephilim series. Packed with characters that readers will be eager to continue adventuring with in future books, the author appeals to classic fantasy readers and modern fiction fans alike. There is something for everyone – action, philosophy, suspense, escapism, romance and striking language – and readers won't want to wait for the second book. Fortunately, Nash has penned an impressive collection of other books  that can tide readers over until the second book. One thing is for certain, The Night Everything Fell Apart deserves a place in the collection of any fantasy genre fan with discerning taste.
Links
Author Site
Facebook
Twitter
Amazon
Goodreads