★★★★½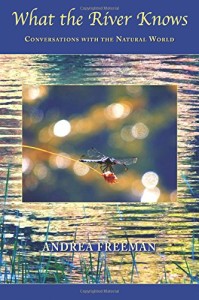 What The River Knows by Andrea Freeman is a meditative and relaxing book of poems subtitled, Conversations with the Natural World.
Not often do we stop to think about our natural surroundings in our busy, often urban, lives. In this collection, Freeman ponders the future of the natural world as a force that will not wait for humanity to wake up and take note. She is inspired by both sounds and visions around her, as well as the feelings those invoke, and has here taken time to explore what the Earth has to offer when one takes a moment to pause and listen.
Poetry can be a difficult craft to conquer. However, Freeman is exacting in her communication, which frees her thoughts to present the most relevant and clean lines to the reader – she accomplishes not only the transference of her experience, but also the lines she creates run clear leaving no clutter in her construction, much like her eponymous river. This makes her poems fresh and effortless. No overwriting, no frills, just honest and personal text that she then transforms into forms that accentuate the space between her meaning and that garnered by the reader of the work, thereby allowing breath between her phrases.
Freeman has spent much time observing the life around her and creating her own version of events. She creates a personality and backstory for each animal, plant, or place she writes about, as if they have human habits and oddities and are sometimes self-aware, endearing these players for the narrative, and all senses are open to the experience with the tiniest happening or sound captured for her reader. Turns of phrase therefore speak volumes, and give a history to each piece, such as in Wind in the Desert,
I walked upon this ancient sea floor
to listen to the wind
Or in Pileated Woodpecker
Blessed is that which is broken

for the hidden wholeness it contains.
Often, onomatopoeic phrases lend texture, as in Tea on the Mountain,
Or is it by the chorus of frogs

the pulsing of crickets

the flickering of fireflies

the chattering of chickadees

the screeching of owls

the whistling of marmots

the bellow of the moose?
If there is a criticism, it is for the cover of the book, which is not up to the high standard of the content or illustration inside. Poetry is perhaps not as concerned with "marketability" as other types of prose, but so much care and thought has been put into this collection that it's a shame the same amount of attention has not been put into its presentation. But then, this is a book where words speak like images.
This small criticism aside, the book contains a lovely, quietly composed collection that wonders at the world, which does include charming black and white illustration and an attractive format and font. Any poetry lover would especially enjoy reading these works aloud, or indeed, absorbing them quietly for a dip into the natural world around us in this positively-charged volume.
Links
Author Site
Amazon
Goodreads