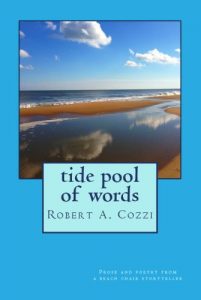 Tide Pool of Words: Prose and Poetry from a Beach Chair Storyteller by Robert A. Cozzi is a collection of musings in poetic form related to the seashore and the ocean. Decorated with simple seashell designs, each poem or prose piece talks romantically about days at the seaside with loved ones.
Cozzi writes simple prose without many embellishments. He concentrates on feelings and colors as he moves from love stories to scenery descriptions. Occasionally, he talks of sadness and fear, mentioning "Sandy" – potentially alluding to Hurricane Sandy, hoping an unnamed loved one is safe.
Intriguingly, Cozzi brings his poetry into modern times, marking it with iPods and Pat Benatar songs. Sometimes New Jersey is mentioned, a beloved place in his life. Stephen King says about writing poetry that it should make sense, and be accessible to those reading it. Certainly these words are no mystery, but that is part of the book's charm, as it is in part about simple pleasures.
Overall, Tide Pool of Words is a serene read for those familiar with the shore he writes of with such reverence, conveyed with emotion and imagery that remain universal. It's a promising volume of work and poetry lovers will find it worth dipping into for a reminder of days at the beach.