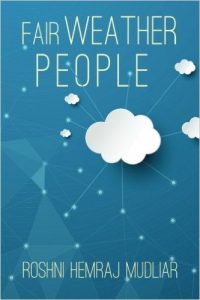 Fair Weather People by Roshni Hemraj Mudliar is a work of fiction about weathering bad people and bad events in one's life – especially when it comes to earning money. The book begins with a short expose of people most of us know all too well: people who are there for you when you're doing well, but turn their back when things turn south. Mudliar's focus is fair-weather people in the workplace. After the introduction, the book then tells the story of a man named Henry, an immigrant, who struggles with difficulties both in the workplace and in his adopted country.
The story of Henry is told as something of a fable, with no dialog, and the invented country of Palzo – a dangerous, crime-ridden place where the corrupt get ahead, and the impoverished continue to struggle. It's an interesting tact for Mudliar to take – as if Palzo is supposed to represent many cities, and Henry many people.
This motif gives the book the sense of telling everyone's story, not just one man. However, at times this makes the story less relatable than if it were told from a first-person perspective. The book certainly has a feeling like it's a reflection of Mudliar's own experiences, as well as her frustrations, albeit writing from a male perspective, so the distance she puts between herself and "Henry" creates a separation that doesn't always allow for empathy as it would with someone's personal story.
This is not to say that Henry is unsympathetic – far from it. Mudliar shows great empathy for her characters, at least those who are victims of this corrupt society – struggling through poverty, crime, and frequent humiliation.  The ending message is one of hope: triumph over adversity. There will doubtlessly be fair weather people in one's life, but finding like-minded people is key to weathering every hardship.