★★★½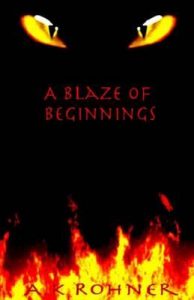 It doesn't take long for the excitement to start in A Blaze of Beginnings, the new novel by A.K. Rohner, as readers are dropped right in the middle of a family mystery that could change all of their lives forever. What unfolds is a coming-of-age tale with more than a few supernatural twists, as Aaron James, the intrepid teenage hero, is catapulted into a world of danger and intrigue where the only thing that can save him is a bold heart and one powerful talisman.
The crux of the plot is a magical ring that Aaron is given under extremely strange circumstances by his mother, and from the very beginning of the plot, it is clear that she knows more than she is letting on. He slowly learns about its powers, and some of his own, and by the third chapter, when the story shifts to a dream realm of dragons and Aaron's ultimate destiny, the book firmly plants itself in the fantasy genre. The surreal nature of Aaron's communication with the other realm, and the dangers facing him in the real world, make for an exciting and a fast-moving narrative, but that can also open up the book to plot holes and rushed exposition.
The story flies through ancient beasts on one side and deadly snipers and international conspiracies on the other, which makes it feel, at times, like the author is biting off more than he can chew. The ambitious plot is impressive, but too many ingredients makes the story lose its hold on realism, which is important even in a fantasy novel.
Tracy and Maria are excellent foils for the main character, as is Ignis, Aaron's guide through this fantastical new life, and all of these side characters provide a bit more depth and direction to Aaron, making him a more likable hero than he is initially. However, there isn't a huge amount of character development overall, or careful descriptions, and the writing is very straightforward, action-driven and informative. While this isn't always a bad thing – particularly for a book aimed at YA readers and even younger – it can still make readers feel like they're being spoon-fed emotions and hit over the head with plot developments.
That being said, every chapter is packed with ancient artifacts, endless secrets, family crests, magical headquarters, visions, dreams, dragons and even puppy love, which add up to an exciting book for a young fantasy fan. There is even a twist ending that most readers won't see coming, a revelation that turns much of the book on its head.
There is always room in the YA genre for an exciting new author with a semi-original plot and a strong core of characters. A.K. Rohner would be wise to enlist the help of a strong copy editor and keep working at creating engaging characters. A Blaze of Beginnings has plenty of stumbling blocks as the first novel in a series, but there is enough substance to warrant a second book, and plenty of loose ends left to tie up from this high-octane fantasy adventure.
Links
Twitter
Amazon
Createspace
Goodreads