★★★★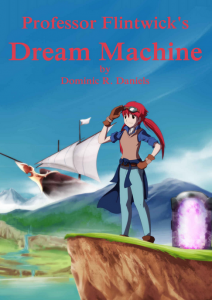 In Professor Flintwick's Dream Machine, author Dominic R. Daniels delivers an unforgettable young adult fantasy with the depth of a novel intended for adults. Blending the whimsical impossibility of "Spirited Away" with the pared down, yet surreal style of Murakami, this short book is an adventurous ride that will be difficult to put down.
Yoshi Flintwick, an eccentric inventor and loving grandfather, once built weapons for the government, but is now much more interested in his dream machine – an invention that constructs rather than destroys. When Professor Flintwick has a horrible vision of creatures under the cruel control of Akumai, the Lord of Shadows, he decides to venture into the dream world, summoned to his destiny. Satsuki, heartbroken that she is not allowed to accompany him, is also fearful that he will never return.
She is soon visited by a kitsune, a talking fox that is common in Japanese folklore, who tells her that Professor Flintwick has been taken prisoner by the Lord of Shadows, so it falls on Satsuki to become the heroine of this tale. What follows is an incredible journey through the Dream World, where this young girl's bravery is constantly challenged, as is her perception of reality. From cat-like carriage drivers and dragons to shadow specters and noble princes, she is aided and challenged many times on her quest, but the ultimate tests must be faced by Satsuki alone.
For those readers who are familiar with or fascinated by Japanese anime, culture or folklore, this book will be a thrilling collection of allegories and morality-based themes. Simple philosophical dichotomies and underlying morals pepper the book, and symbolism is everywhere. While the progression of the plot seems unidirectional, there are still moments of beauty within the pages, both for adults and young readers. Despite being a short read, Daniels creates an expansive world without boundaries – an imaginary playground for any writer.
The book is not without its issues. The flow of the story is a bit repetitive, with Satsuki constantly meeting new sets of characters or facing new obstacles, and then having to overcome each trial that presents itself. This approach is fine in small doses, but even for younger readers, overly formulaic structures can become tiresome.
However, the story redeems itself and shines with the strong protagonist of Satsuki, who is spunky, funny, selfless and brave – an excellent role model for the target audience. The writing itself is uncomplicated and the dialogue is simple, focusing more on parable-like engagements and moments of conflict or morality, which resonate more powerfully than the simple prose in which they're expressed.
This is far from uncommon in books targeted at children, and while some critics may call this book's symbolism a bit too "on the nose," straightforward lessons often have the greatest impact on young minds. There are occasional grammatical and editorial errors throughout, but not enough to detract notably from the reading experience.  Overall, Professor Flintwick's Dream Machine is a touching homage to the Japanese style of narrative fiction and surreal storytelling, and author Dominic Daniels clearly tapped into his inner child when creating this heartwarming and endlessly inventive tale.
Links
Author Site
Facebook
Twitter
Amazon
Goodreads