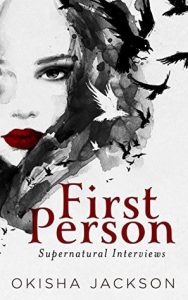 First Person: Supernatural Interviews by Okisha Jackson is a collection of religious poetry focused on a number of different themes, such as "Vanity," "Love," "Insecurity," "Pride," and others. Poems are told in the first person from the perspective of the theme, or the author, and followed by corresponding scripture. It's a unique work that touches on religious themes in a modern-day context.
While this is a deeply religious collection, the strength of the poetry is its universality. There is, of course, mention of God and faith within the text, but when she talks of something like vanity, it is applicable to everyone. An example:
Take my picture, roll that camera, and make me a star.
Read my posts, blogs, and see my body.
I want my image branded on your heart.
These humans idolize me.
The collection brings religion into the modern world, as the issues Jackson touches on are immediately recognizable in day to day life.  Jackson also imbues her poetry with humor (for instance, the interview with "Fear"), and true pathos, with some very blunt and evocative language. It's this directness that makes Jackson's collection stand out from other religious poetry, as it is wholly relatable in a world that is increasingly difficult and demanding. As such, it should help the faithful to strengthen their faith.
Links
Author Site
Twitter
Amazon
Goodreads