★★★★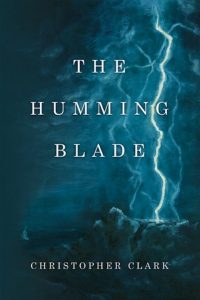 Fantasy readers love the promise of epic battles, inexplicable power, walking corpses, ancient cats, magic swords, and heroes with impossible destinies to discover. All of that and more is on display within the first 15 pages of The Humming Blade, the stunning new novel by Christopher Clark. The author wastes no time sucking readers into his fantastical world, and while the use of a dream sequence to kick off a novel isn't unique, it certainly works for this book.
Wyatt Arden is an unremarkable kid living in the tiny town of Ven with his mother, working the farm and generally lamenting the boring nature of his life. One of his closest friends is joining the Imperial Army, destined for excitement and adventure, leaving Wyatt behind with nothing but dreams. However, this particular dream that launches the novel is actually a prophecy – a vision of the future – and Wyatt's life will never be the same.
The story builds up slowly, introducing readers to the heroes and villains of the story in extended detail. Shem, a talking cat in a cave, becomes Wyatt's guide, helping him begin his journey, namely by providing him with the titular sword, The Humming Blade. Nearby, the seed of ultimate evil is released by a dangerous necromancer, and the foundation of the novel suddenly falls in place.
Like so many other classic fantasy series, an unsuspecting commoner discovers that he has a far greater destiny than he ever suspected, and embarks on a complicated journey of self-discovery and danger. While this plot device is seen in authors from R.A. Salvatore and J.R.R. Tolkien to Terry Brooks and George R.R. Martin, it rarely fails to work, and Clark does offer a new angle on an old style.
Wyatt soon embarks on his quest, accompanied by new friends, Jag, Grace and Vance, who provide key exposition of this strange world, and illuminate who Wyatt truly is, helping him discover more about his heritage, and bringing out his potential as the hero of this tale. The chapters spent describing the "bad guys" in the novel are where the writing shines; endlessly creative histories and intricate details of the Warlord and pyromancers make the book come alive. Additionally, the world building done by Clark is admirable, going beyond what many fantasy writers with far more experience would be able to achieve.
Technically speaking, there were few errors in the prose, although some of the passages could do with an edit, or suggestions on altering wording to seem more consistent with the manner of speech used by every character. While the ending could be fleshed out a bit more, it clearly leaves the door open for a sequel.
The writing is reminiscent of many different writers, including humorous moments reflective of Terry Pratchett, and descriptive passages that summon the memory of Tom Robbins novels, yet Clark's own voice is still distinct and strong. His fandom for novels in this genre is clear, and the prose reads like it came from an old pro – balanced between plot progression, action, camaraderie and the pressure to save the entire world.
Clark effectively tips his cap to the traditions of fantasy, so The Humming Blade will satisfy readers of classic fantasy, but his is a unique voice and he has created an engaging world that is all his own.
Links
Author Site
Facebook
Twitter
Amazon
Goodreads