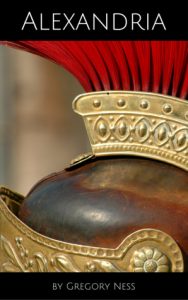 Roy and Renee are on the run. Two scientists whose revolutionary research threatened to change science forever became too much for the financial oligarchy of the United States. Continuing their work with sleep-viewing and dark energy research, the two attempt to piece together a puzzle they are woefully under-equipped to understand. Then an unexpected piece of a larger picture is found in the mind of a certain subject that will take the scientists to a whole new view of reality.
Alexandria, the second book of The Sword of Agrippa series by Gregory Ness, is a near-future sci-fi novella centered on the themes of energy crisis, political unrest, new science, time travel, dream viewing, and forgotten history. It's certainly a lot to take in, and it would be fair to say the book demands readers start at the beginning of the series to completely uncoil the complex plot here. Despite being called "hard science fiction," the novel truly catapults into some fantastical places as we explore ancient Egyptian temples with Cleopatra and Caesar. Those surprises are what make the book particularly entertaining, as it goes places you'll never see coming.
Overall, Alexandria is well-rounded and smartly-written, exploring both contemporary political issues and more conceptual human issues through the lens of its unique plot.
Links
Author Site
Amazon
Goodreads